Hi all,
(scroll down this post and thread for updates! Currently at wine v2.9 dev)

My nickname in bf1942 is
iCQ @ Linux
And since MANY of you asked me ingame HOW am i getting it to run in linux AND since i got my silly bum banned today i figured its maybe a good idea to show some of you guys HOW i run bf1942 in linux.
Thrust me.. it is SUPER SIMPLE and easy. Anyone can do it... no need to have fast hardware or anything.
All you need is a linux flavor and wine and of course a copy of BF1942.
For this example i take ubuntu.
Go to
https://www.ubuntu.com/download/desktop/
and download the free copy. Of course check if your system specs are fitting the download else go to
https://www.ubuntu.com/download/alternative-downloads
and get yourself an older version. Pay attention if you have old hardware if you can run 64bit else just do 32bit version.
Please note the older versions are FINE.. they have everything in it and will support your game or software just fine.
Download the ISO and burn it to a CD... better yet put it on a USB stick. That is much faster and saves you some cash on empty CD.
Startup your pc with the CD or USB stick and start the install. If you do not want to loose your windows (duh) select install ALONGSIDE WINDOWS. Do not worry i havent seen that go wrong once. Make sure there is of course some diskspace left on your disk before doing this. You can delete files like the iso download and temp files to get some free space.
After you installed UBUNTU you get ready to boot it up for the first time. Set your screen resolution and poke around a bit. You will find linux to be super freaky NICE and you can adjust about ANYTHING and there are NO secrets in there like you find in MS or APPLE products.
Then go to the sidebar and find SOFTWARE & UPDATES. In there you go to the ADDITIONAL DRIVERS tab. See if there are any newer CATALYST or NVIDIA drivers for your GPU. It is not necessary but especially when you want to be able to run some more newer games you want to do this.
A reboot will be required after you setup your new GPU driver. If you have intel HD then you will automatically have the latest one installed by ubuntu (it will update also).
NOW YOU ARE READY TO SETUP YOUR WINDOWS GAME
What are we going to do? We go to the
UBUNTU SOFTWARE
center. Yes if you want you can also do a SUDO APT-GET INSTALL or use the Synaptic Package Manager. You can even go to
http://www.wine.org
and get yourself the latest developer version 2.4 which runs smooth i play most my directx11 games with that.
In the software center you seach for WINE. It will show up as a glass of red wine: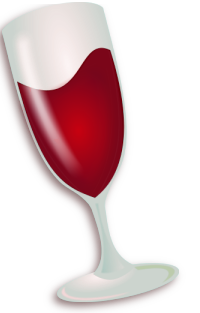 Click on INSTALL and we are ready to run windows.exe files in linux!
Now while talking to alot of you guys in the server i noticed many of you tried this and got stuck. The BF1942.exe game simply not show up. Not in your linux mint or arch... etc.
What is the problem here? Well i think it is two parts.
One... you have to configure wine to see your windows drive where you have installed your BF1942.exe or copy the whole BF1942 folder in your home folder of linux.
Two... you have not a proper LINK to the BF1942.exe. Here is mine (note the ` after the wine command):
Code: Select all

wine '/mnt/500GB/Games/Battlefield 1942/BF1942.exe'
As you can see it is quite simple. And i play bf1942 even on an old pentium D using linux/wine and not have a lag problem AT ALL. In fact i have LESS lag in LINUX then in WINE.
I managed to install and run MANY windows games in LINUX. A helpful tool for you is maybe
WINETRICKS
which you can find in the app store as well.
Here is a list of some ready made tricks for games and their installers:
https://appdb.winehq.org/
Note there are MANY MORE apps and games supported. This is just a selection. Yes you can do photoshop (i adivse switch to GIMP but ok if you insist).
In case any of you have any questions or things to add just drop it down below and i be there to tell you what or how.
Cheers,
iCQ
===== VERSION UPDATES =====
Some major updates for today:
Ubuntu 17.04
kernel 4.10.0-19 (last version with Unity desktop, next will be gnome)
Linux Mint 18.1
kernel 4.9-older
Wine 2.6 devel
with support for multi-threaded command stream in Direct3D and more Shader Model 5 instructions
And most important the
NVIDIA linux 64bit v381.09 open source driver
. I noticed great increase in speeds with unreal engine based games, GPU rendering for for blender and video editing software and multi monitor support fixes for some games.
Download links:
Ubuntu 17.04 desktop 64bit iso ->
https://www.ubuntu.com/download/desktop ... ture=amd64
Linux Mint desktop (several versions to your own flavor)
https://www.linuxmint.com/download.php
Wine 2.6 developer update (might have some bugs but also supports Multi-threaded command stream in Direct3D)
https://www.winehq.org/announce/2.6
Nvidia v381.09 opensource driver:
https://launchpad.net/~graphics-drivers ... ubuntu/ppa
Easy and failsafe instructions for installing this new nvidia driver:
1 open terminal (press CTRL-ALT-T) and
Code: Select all

sudo add-apt-repository ppa:graphics-drivers/ppa

2 do an repo update
Code: Select all

sudo apt-get update

3 go to SYSTEM SETTING -> SOFTWARE & UPDATES -> ADDITIONAL DRIVERS
4 select the v381.09 driver and let it install (automatic, wait for a minute or two!!!)
5 go to OTHER SOFTWARE tab and remove the PPA repo again (just to be sure you not get a faulty update in the future)
6 reboot and ur done!